News
​Technics apresenta a primeira orquestra de toca discos do mundo
Projeto inclui campeões do DMC World Champion Qbert, Mr. Switch, Rena e outros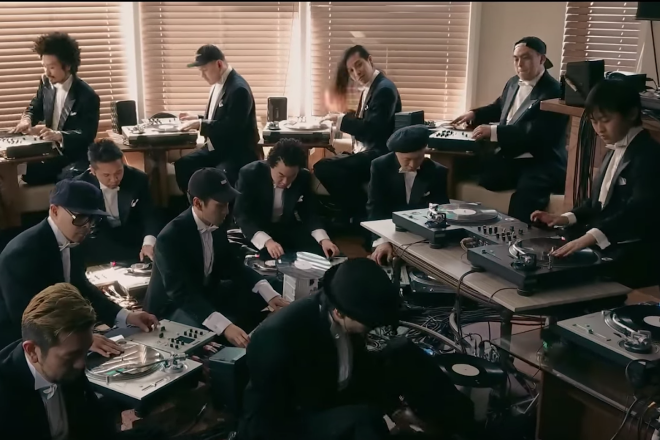 Em homenagem ao Record Day 2018 no Japão, a Technics montou a primeira orquestra de toca-discos do mundo, chamada The Philharmonic Turntable Orchestra.
O Record Day no Japão celebra o momento em que os LPs foram lançados em 1968 e logo após a Technics lançou seu toca-discos SL-1200, em 1972.
A orquestra consiste de 30 turntablists, incluindo vencedores do DMC World Championship como Qbert, Switch, Swarks, Kentaro, Izoh e Rena, assim como os membros da equipe Yasa e Hi-C. Juntos, eles reconstroem música clássica tocando discos de vinil usando uma variedade de técnicas de DJ.
Aparentemente, esta é a primeira orquestra completa do mundo composta apenas de toca-discos e mixers como instrumentos.
Cada membro usa um aparelho da série Technics SL-1200 com vinil de música clássica. Os DJs reconstroem e mixam som clássico usando scratches e fazendo uso de múltiplas técnicas e habilidades para criar uma composição original.
Os DJs usaram oito discos específicos para criar a nova faixa, incluindo 'Spring', de Vivaldi, de 'The Four Seasons Violin Concerto in E major', 'Girls of the Aged', de Rossini, de 'The 6th Album' e os 12'' Milstein e a versão da Orquestra Filarmônica de Nova York do 'Mendelssohn Concerto in E minor'.
Assista ao vídeo para ver a The Philharmonic Turntable Orchestra em ação, bem como um pequeno documentário sobre o projeto abaixo.